08/16/2023
A Self-Regulated Industry
By: Jonathan Chapman, CPYB, YBAA Board Member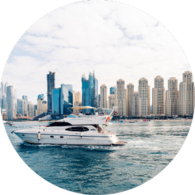 Working within a primarily self-regulated industry offers us a unique set of benefits that can lead to professional growth and innovation. One of the primary advantages we have as Yacht brokers is the freedom to make decisions based on our own experience and expertise rather than rigid external guidelines imposed upon us, potentially by those not entirely understanding of our industry. This allows Yacht sales professionals to adapt to change, experiment with new ideas, and respond effectively to emerging trends within our quickly changing industry.
Self-regulation also encourages a higher level of responsibility and accountability. As Professional Yacht Brokers, this should motivate us to maintain our reputation and uphold high ethical standards. We must never forget that our success as brokers relies on maintaining the trust of our clients, partners, and peers.
To effectively stay self-regulated, we need to support and engage actively in our industry professional organizations such as YBAA. We need to continue to prioritize ongoing education opportunities that are provided at YBAA U's, Yacht Broker Summits and through Webinars, and we need to all strive to become CPYB trained and certified. Staying informed about industry developments, best practices, and emerging innovations is crucial; in addition, the peer-to-peer networking opportunities these conferences and summits provide give valuable industry insights.
Implementing self-imposed quality control measures is another key aspect. Your YBAA board, Ethics Committee, and Contract Review Committee are regularly reviewing processes, seeking feedback from clients, customers, and attorneys, and continually conduct internal audits to identify areas for improvement to ensure that standards remain high for YBAA Brokers. Setting clear goals and benchmarks and maintaining a strong code of ethics with established guidelines ensures credibility and trust.
In conclusion, working in a self-regulated industry offers the advantages of flexibility, innovation, and a heightened sense of accountability. To stay self-regulated, brokers and firms should commit to continuous education, implement those quality control measures, and uphold a strong ethical foundation. By doing so, we can continue to enjoy the benefits of autonomy while contributing to the advancement of our industry and ourselves as professionals.
Jonathan Chapman, CPYB
YBAA Immediate Past President