On-site registration available for walk-ins if space permits
Get ready for great networking, valuable education and stimulating conversation - YBAA's 2018 University events are coming this summer.
The popular one-day luncheon events offer the latest technical, legal, ethical and transactional expertise from leading authorities, all designed to strengthen your role as a yacht sales professional.
Upcoming events are scheduled as follows.
| | |
| --- | --- |
| JULY 17 - PROVIDENCE | JULY 19 - ANNAPOLIS, MD |
EVENT PRICING
Members: $65
(YBAA,CPYB,ABYC,Sail America, Beneteau and MICD)
Non-Members: $85
Walk-Ins: $99
Click Here For More Information
---
Don't forget to like us on Facebook
---
Contributed by Boats Group
In recent months, you've probably received communication from some of your favorite websites or entertainment apps such as Netflix, Twitter, Facebook, Amazon Prime or Verizon. These communications have been prompted by the General Data Protection Regulation (GDPR). Many businesses in the U.S. assume that GDPR doesn't apply to them since it's a European-based regulation.

Think again. Read more.
---

The scoop behind the new .boats and .yachts web addresses
Maybe you've heard of or visited a website that uses a new .boats or .yachts domain name. Consider master.yachts for example, who transitioned to their new TLD name in 2017. Other companies have started to follow suit, including Sea Ray and Bass Pro Shop, who have purchased a combined 66 new .boats and .yachts domain names. What's the story behind these names? Why are these new URLs something your business should consider?
YBAA members read full articles here.
---

An "As-Is" clause does not mean that a buyer assumes all risk, but you probably already know that. However, there are many situations that can leave a broker, well… broker! Sometimes it takes the form of a lawsuit, sometimes of bad publicity or a negative reputation, and sometimes a bit of both. After all, a broker's responsibility is not really over just because the paperwork is done. In many states, proof of fraud, negligent misrepresentation, or unfair acts override the as-is clause putting the liability back on the broker despite a contract that suggests otherwise.
YBAA members read full article here.
---
Reach the leaders in the boating industry through these advertising options. YBAA members can advertise on the YBAA Website and in the monthly Yacht Broker e-News. The e-newsletter reaches over 2400 industry contacts in North America and the world. Consider placing your company logo on the YBAA website for all members and visitors to see on each page. It's an investment that will create new opportunities in 2018 and beyond.

---
---
---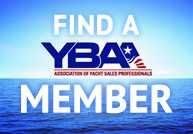 ---
---
---
---
---
---
Sponsored by YBAA & CPYB
---
---
---
Quick Links
Add Additional Location

Renew Your YBAA Florida Office
Free for Members
Make Changes to Your Records
Each Receive All Membership Privileges
---
---
Upcoming Events
←
July 2018
→
S
M
T
W
T
F
S
1
2
3
4
5
6
7
8
9
10
11
12
13
14
15
16
17

10 CPYB Recertification Credits

Downtown Marriott - Providence

July 17, 2018




8:15AM-4:00PM

18
19

10 CPYB Recertification Credits

Doubletree Annapolis

July 19, 2018




8:15AM-4:00PM

20
21
22
23
24
25
26
27
28
29
30
31
August 2, 2018
12:00-1:00PM
Pre Boat Show Sales Seminar
3 CPYB Recertification Credits
August 15, 2018
12:00-1:00PM
Mark Your Calendars
3 CPYB Recertification Credits
View all